Calling All Combat Veterans: Please join us at VFW Post 7333
Randolph Memorial Post 7333 serves Randolph, Mendham, Mine Hill, Chester and Dover in Morris County New Jersey.
We need your help to:
Honor Our Fallen

Support Our Troops

Celebrate Our Holidays

Fight For Veteran's Rights

Enjoy the Fun and Benefits of Fellowship
If you have served in a foreign war and live in one of those towns please call us at 973-945-8507 or email bill@bmenzel.com to learn about our programs and VFW benefits. Or stop by any Thursday morning at our Post and share a cup of coffee and some camaraderie with Quartermaster Jack Sassaman or Commander Scott Montanio. You might be surprised at how rewarding Veterans of Foreign Wars membership can be.
Eligibility: You are eligible to join the VFW if you have received an overseas campaign medal or served 30 consecutive or 60 non-consecutive days in Korea or ever received hostile fire or imminent danger pay.
2018 Independence Day Parade
2018 Independence Day Parade
Our annual Flag Day flag retirement ceremony was well attended. Shown (L to R) are John, Dan, Bill, Angel, Jack, Nick, Mayor Mark, the Colonel, Councilman Lance, Commander Scott, Henry, Rich, and Bob.
For Memorial Day our Post places flags on the graves of veterans in seven cemeteries in Randolph. Shown here (L to R) are Bill, Ken, John, Scott, Len, the Colonel, Emerson, Ted, Dan. Quartermaster Jack took the photo. We were honored to express our respects and gratitude for their service.
Randolph Memorial Post #7333 Veterans of Foreign Wars presented their 2018 scholarship awards to Felicity Gonzalez and Scott Finnis.
Patriots Pen winner Ryan Manderioli and Voice of Democracy winner Elizabeth Moran with Commander Montanio and Post Programs Chairman Sassaman.
On December 20 , 2016 Randolph Memorial VFW Post #7333 presented awards to the local finalists in the VFW Patriot's Pen and Voice of Democracy essay contests. The Patriot's Pen contest is open to all students in the 6th thru 8th grades. This year's theme was "The America I Believe In". First place was awarded to Jordan Snarski, 2nd place to Olivia Melly and 3rd to Liam Cassells. The Voice of Democracy contest is for high school students.This year's theme was "My Responsibility To America".The contest winner on the National level receives a scholarship of $30,000. First place for the Randolph area was awarded to Justin Galvez and Paul Ward received the 2nd place award. (pictured L-R: Program Chairman Jack Sassaman, Justin Galvez, Paul Ward, Post Commander Montanio, Liam Cassells, Olivia Melly, Jordan Snarski).
Singing of God Bless America led by Emerson
Commander Scott presents Cassandra Incledon the Randolph VFW 2016 Female High School Senior scholarship award.
Cassandra will be attending Rutgers University and studying psychology.
Scott, Len, Dan, Emerson, Angel, Bill, Jack, Bryan and Randy.
Scott, Len, Dan, Emerson, Angel, Bill, Jack, Bryan and Randy.
Bob Brehms, Past Commander
Randolph VFW Post presented Troop 50 Scout Master Ken Lareau with a certificate of recognition for his leadership at the June 18th Eagle Scout Court of Honor. Past Post Commander Jack Sassaman spoke about Mr. Lareau's military service in the Vietnam war and how his many helicopter missions were key to supplying our ground troops saving undocumented lives. Mr. Lareau became involved with scouting because his son became interested in scouting and later became the 3rd Eagle for Troop 50. The certificate commended Mr. Lareau for having over 100 scouts achieve the rank of Eagle Scout under his leadership. He has been the scout master from the troop's first eagle to the latest #104 over a span of about 30 years.
VFW Post 7333 places flags on veteran's graves at six Randolph cemeteries. Participants: Scott Montana - Cmdr, Ted Carman, Bob Brembs, Rich Reck, Dan Gaestel, Bill Menzel, Ken Lareau, Len Labriola, Emerson Crooks, Jack Sassaman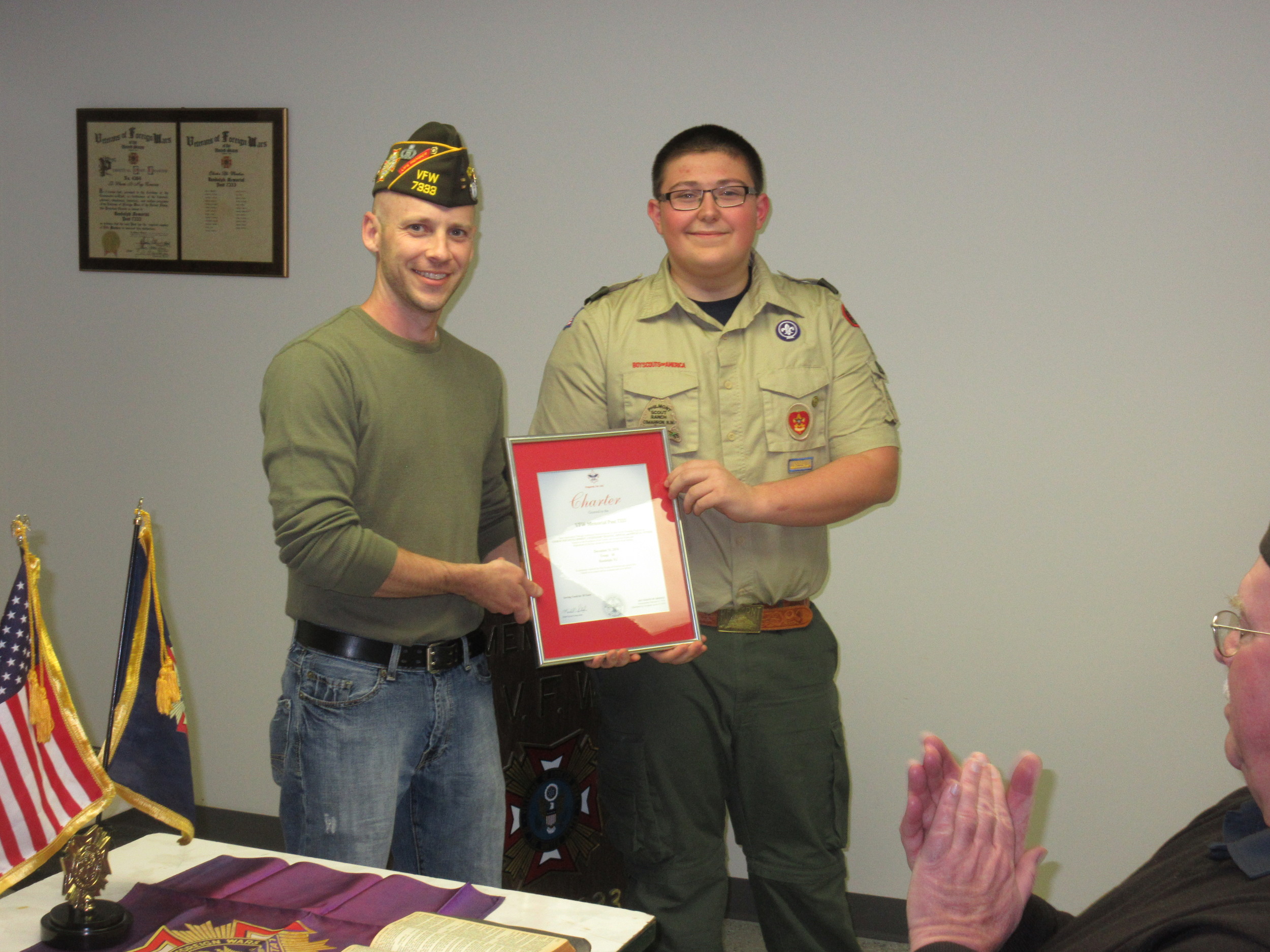 Senior Patrol Leader Joey Celentano presented the 2016 Boy Scout Troop 50 Charter to VFW Post 7333 Commander Scott Montanio on March 15. VFW Post 7333 has sponsored Troop 50 for the past 30 years.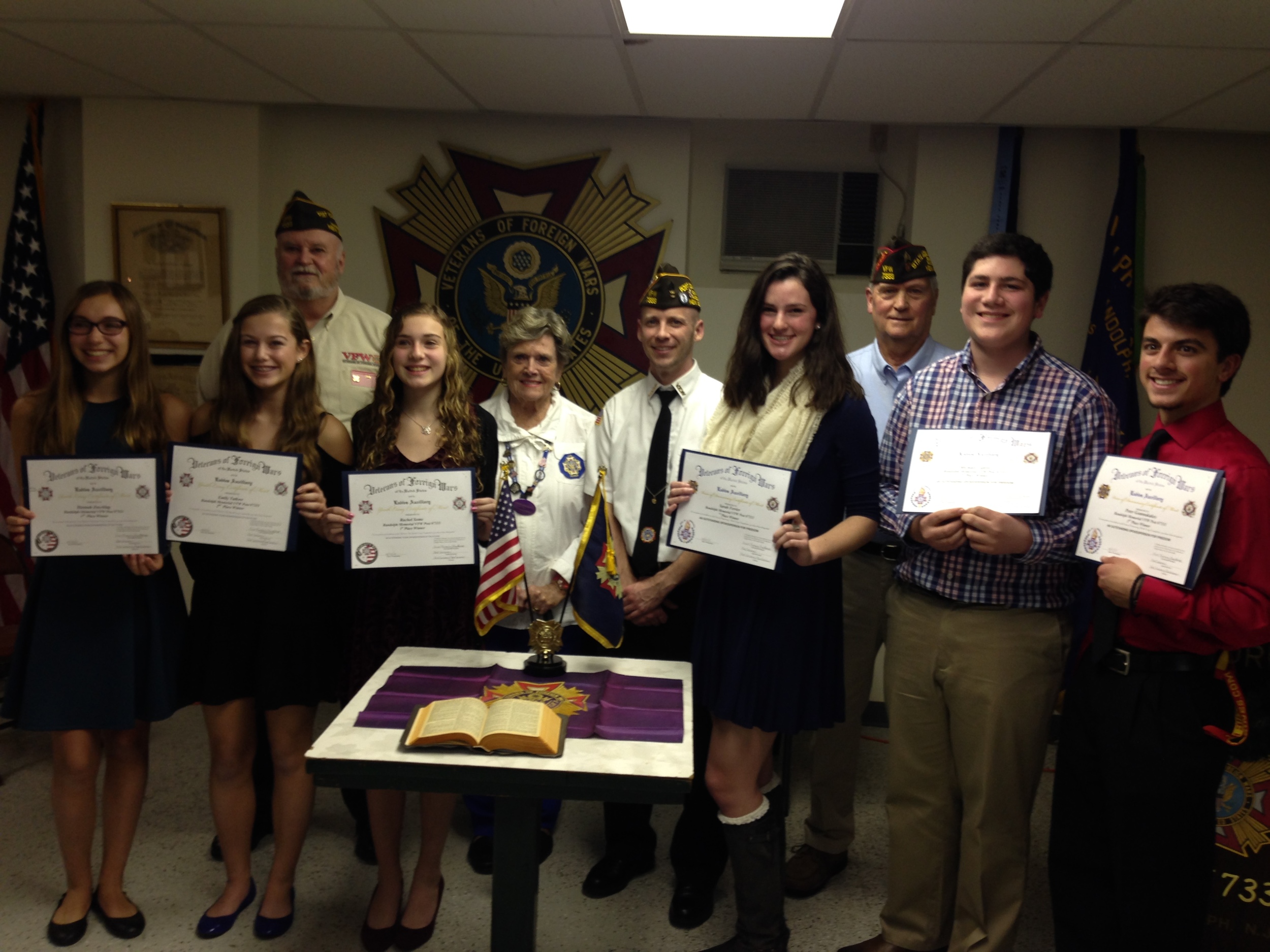 2015 VOD Awards
The Veterans of Foreign Wars holds two annual nation-wide essay contests that provide students with a chance to win scholarships for writing about patriotic themes. The Voice of Democracy is an audio-essay contest for high school students. Patriots Pen is a written essay for middle school students. On December 15 VFW Post 7333 presented the Randolph awards for 2015. The VOD awards were presented to Sarah Ferrier, Michael Cafero and Peter Geannakakes. The Patriots Pen awards were presented to Rachel Some, Emily Tatkow, Hannah Zuschlag. Each student was presented a Certificate of Merit by Joan Brembs, President of the Ladies Auxiliary, and a check by Post Commander Scott Montanio. In addition, Rachel Some was honored by George Terry, Past District Commander and Chairman of the District Patriots Pen, for winning the District level judging. Rachel will go on to the State level judging with the winner to be announced in February.
(Pictured L-R: Front row: Hannah Zuschlag, Emily Tatkow, Rachel Some, Sarah Ferrier, Michael Cafero, Peter Geannakakes; Back row: George Terry, Joan Brembs, Scott Montanio, Jack Sassaman, Post Chairman of Events).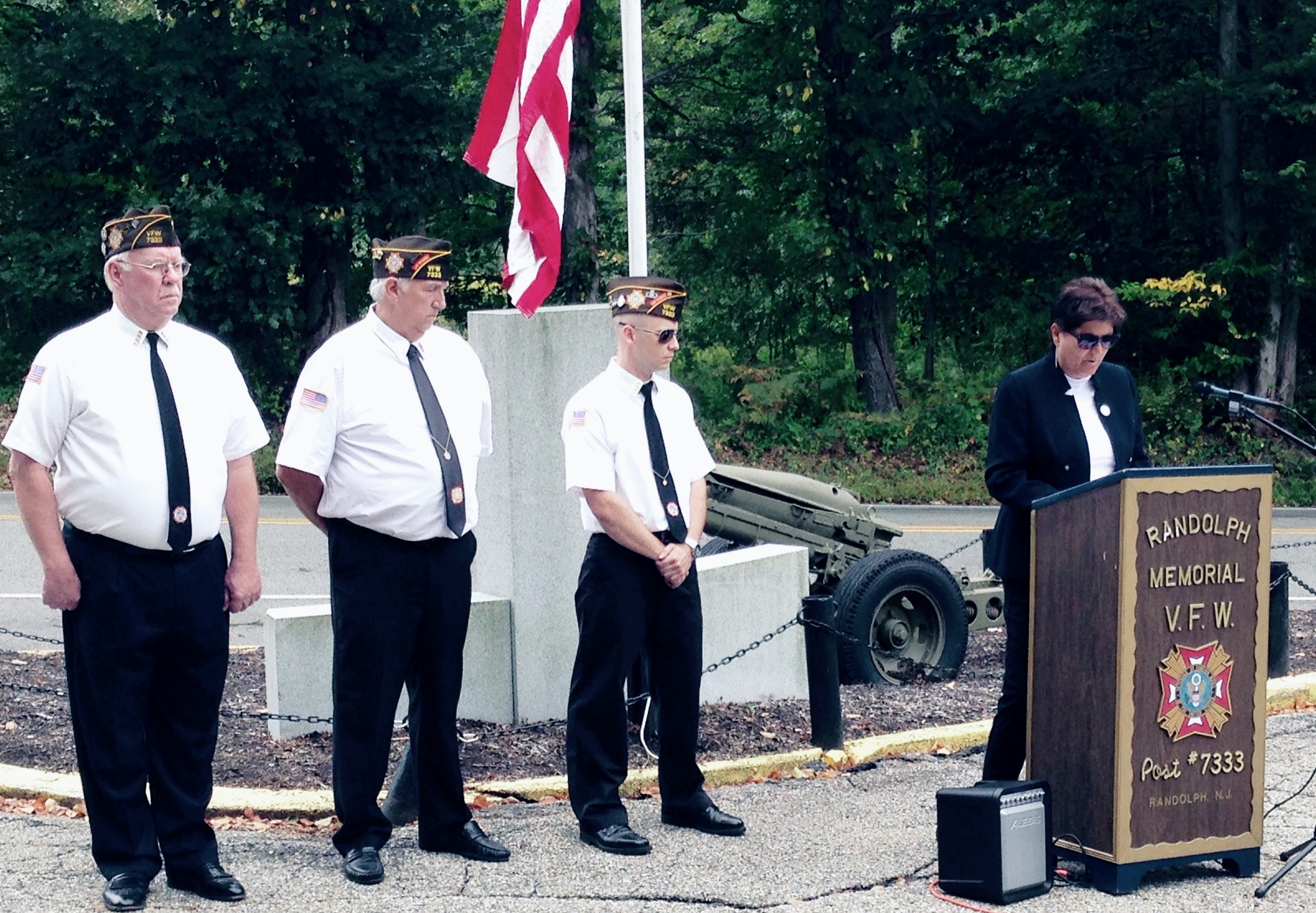 Patriot's Day 2015 - (right to left) John, Dan, Commander Scott and Randolph Mayor Joanne Veech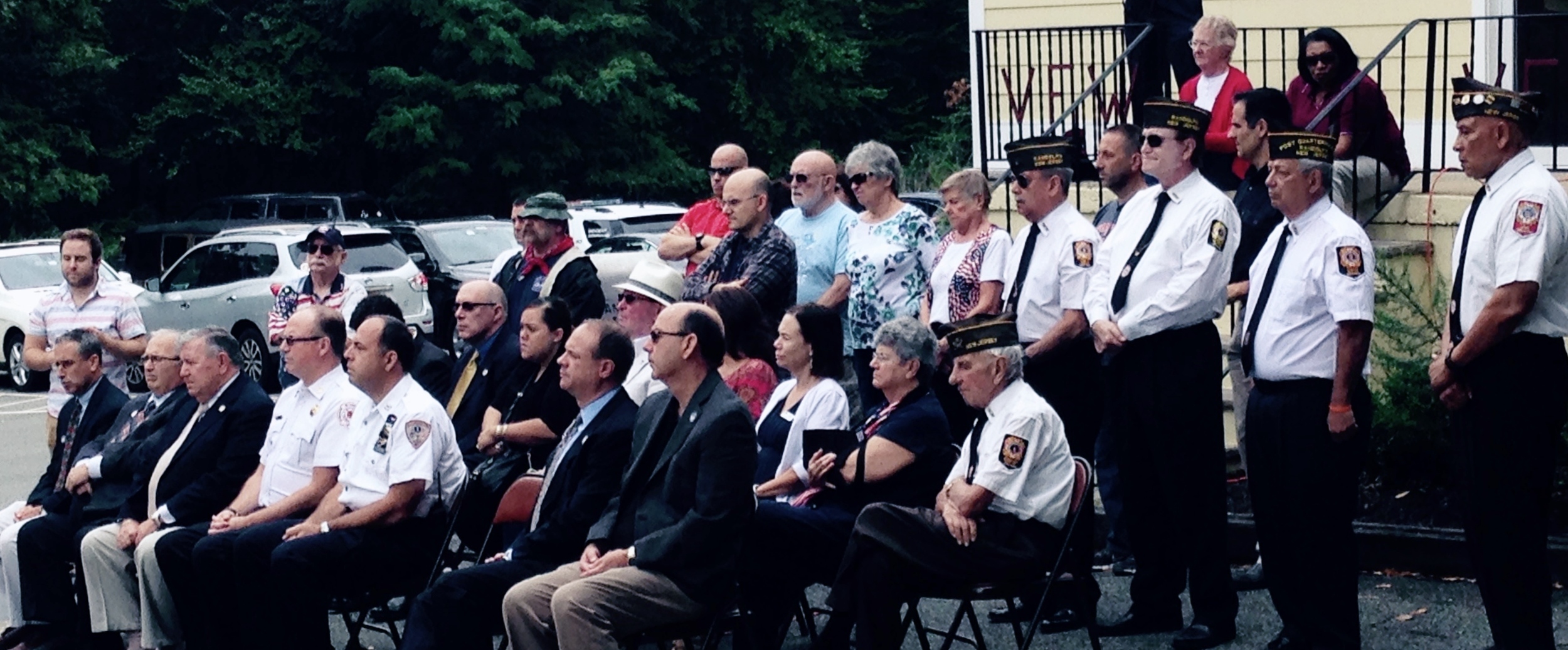 Patriots Day 2015 - Guests included Randolph Township Council Members Loveys and Napoliello and State Senator Anthony Bucco
VFW members shown are Mario( seated ) and Angel, Bill , Rich and Emerson.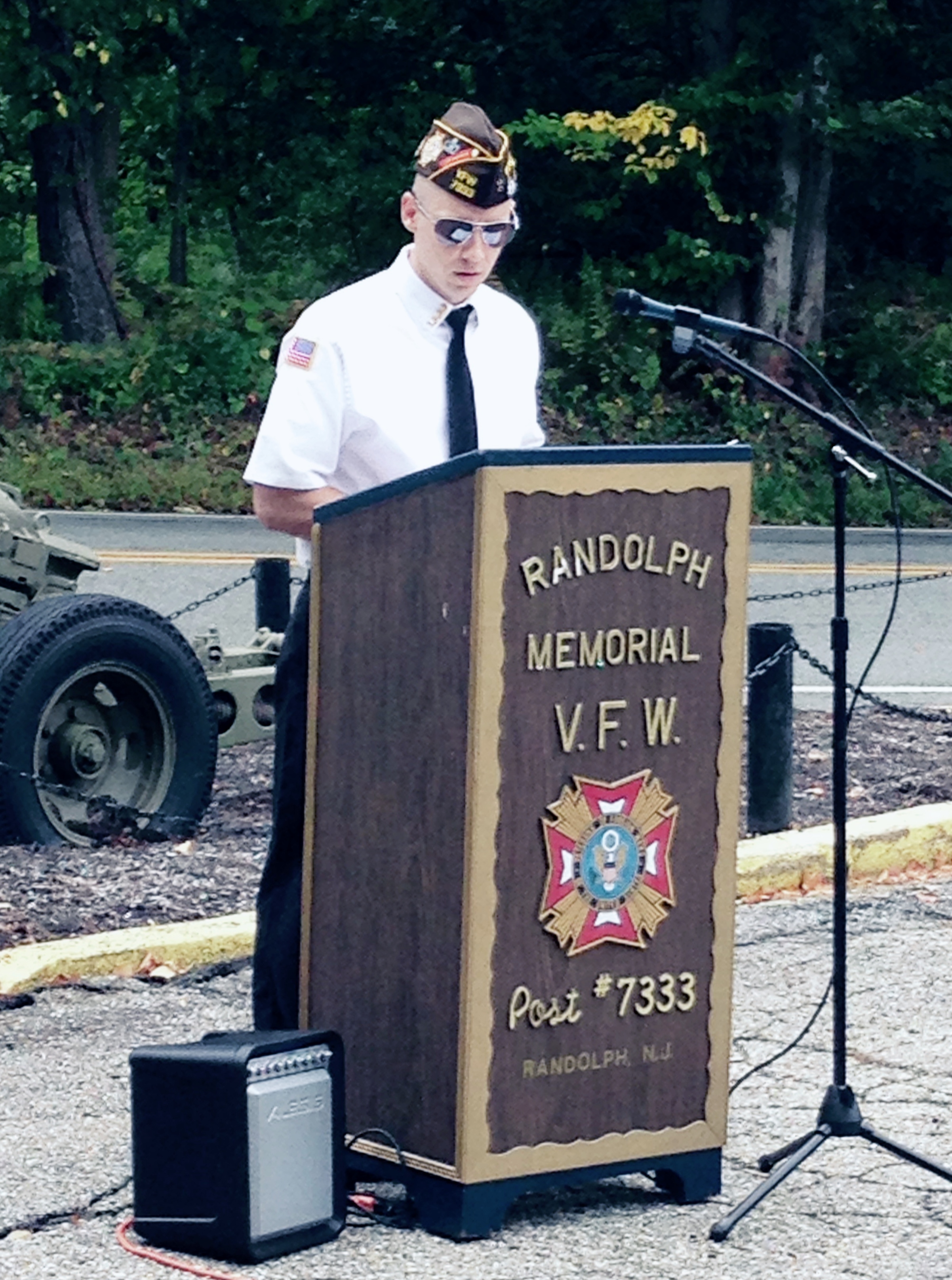 Patriot's Day 2015 - Commander Scott commemorating the heroes and the fallen of September 11, 2001.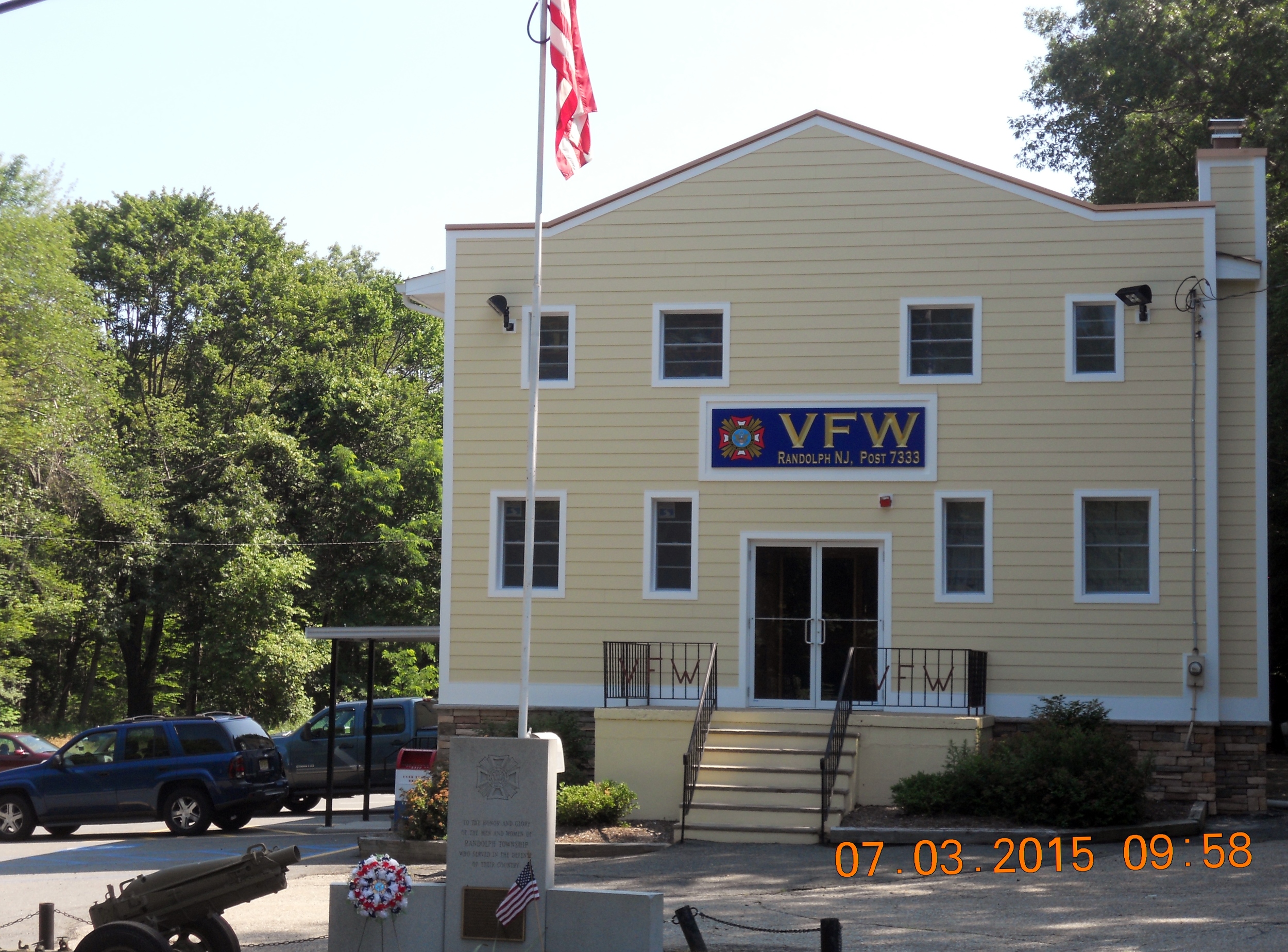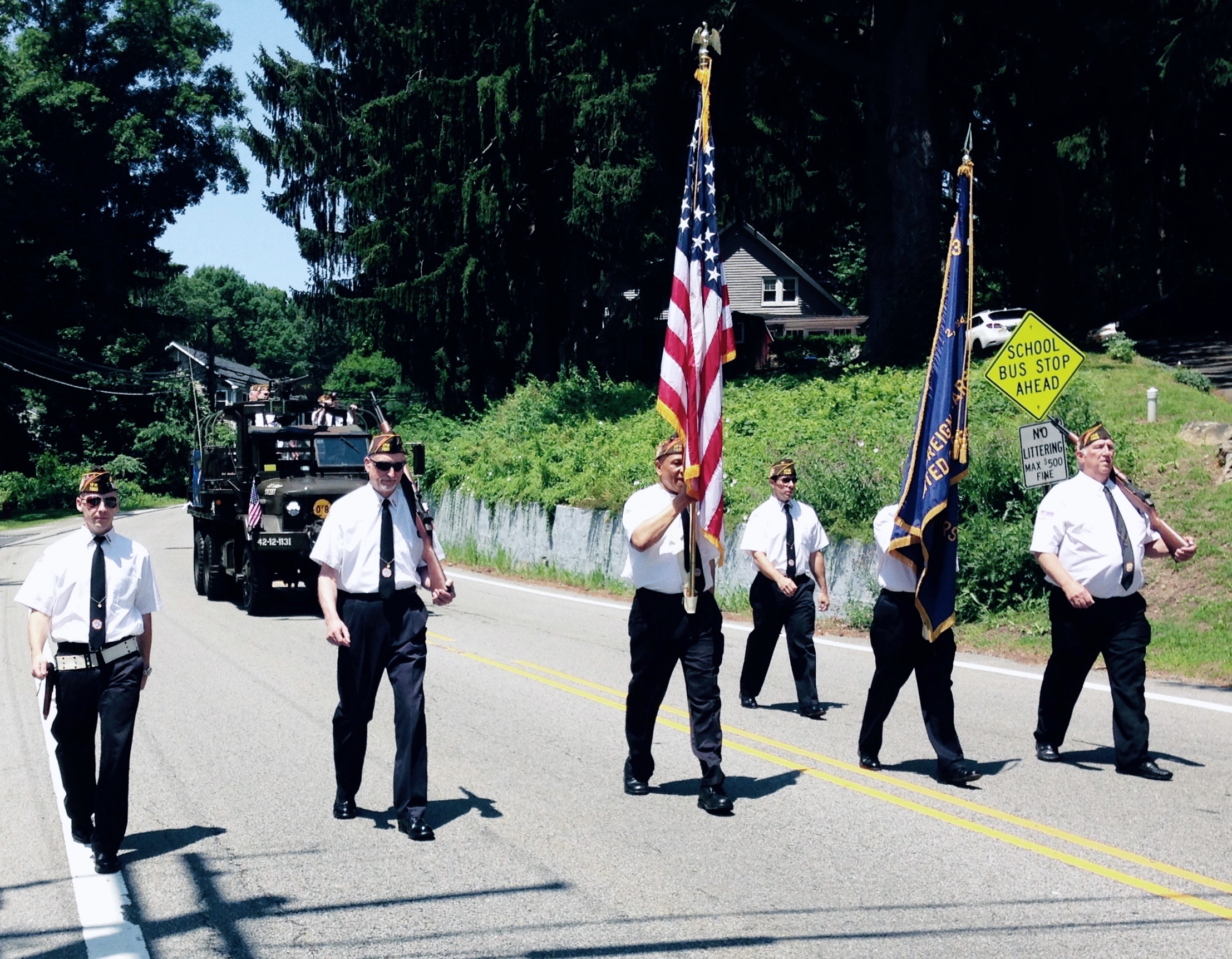 2015 Fourth of July Parade - Scott, Jack and Randy, with flag bearers Emerson & Angel and Riflemen Len & Dan.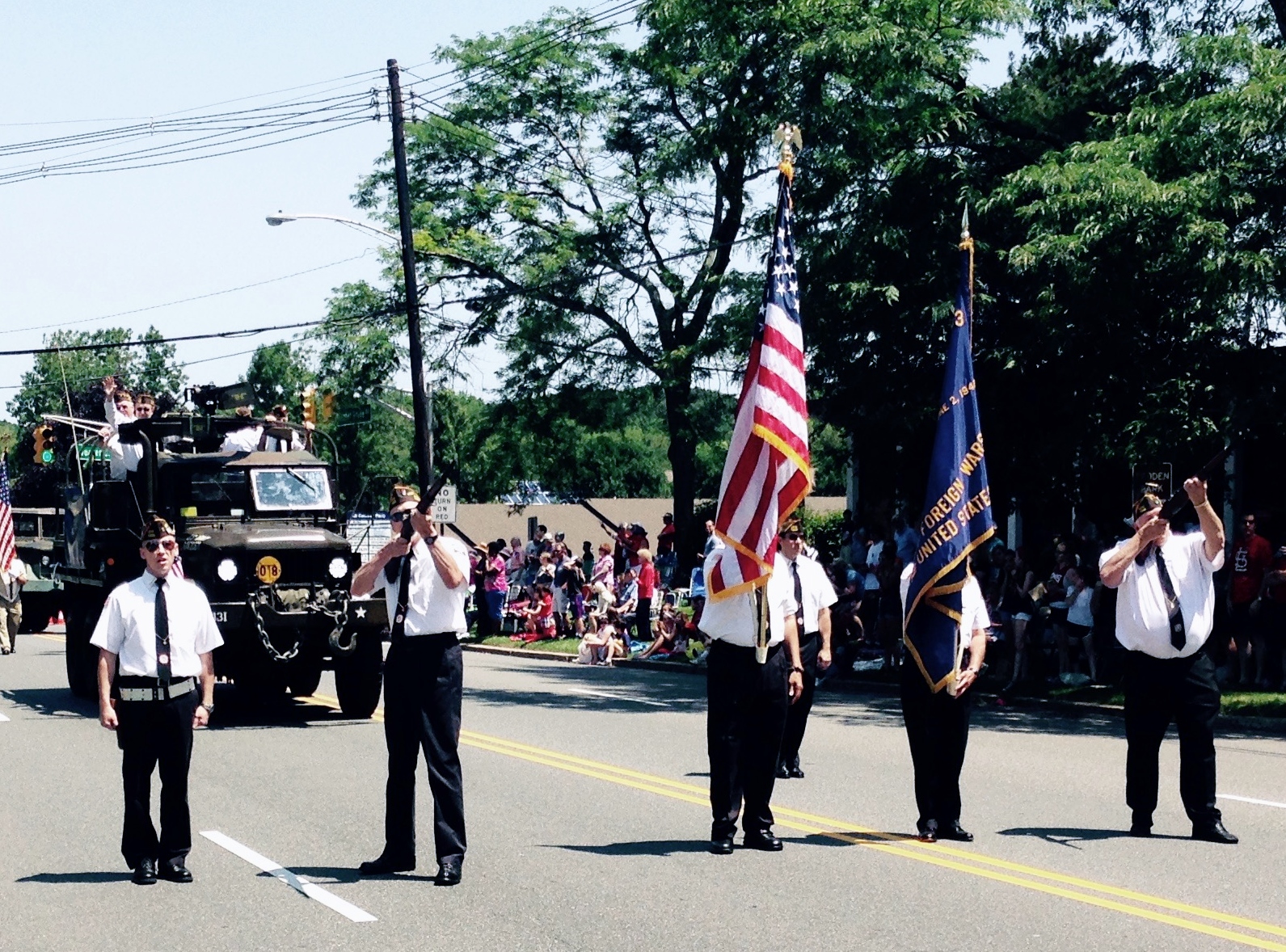 2015 Fourth of July Parade - Scott, Jack and Randy, with flag bearers Emerson & Angel and Riflemen Len & Dan.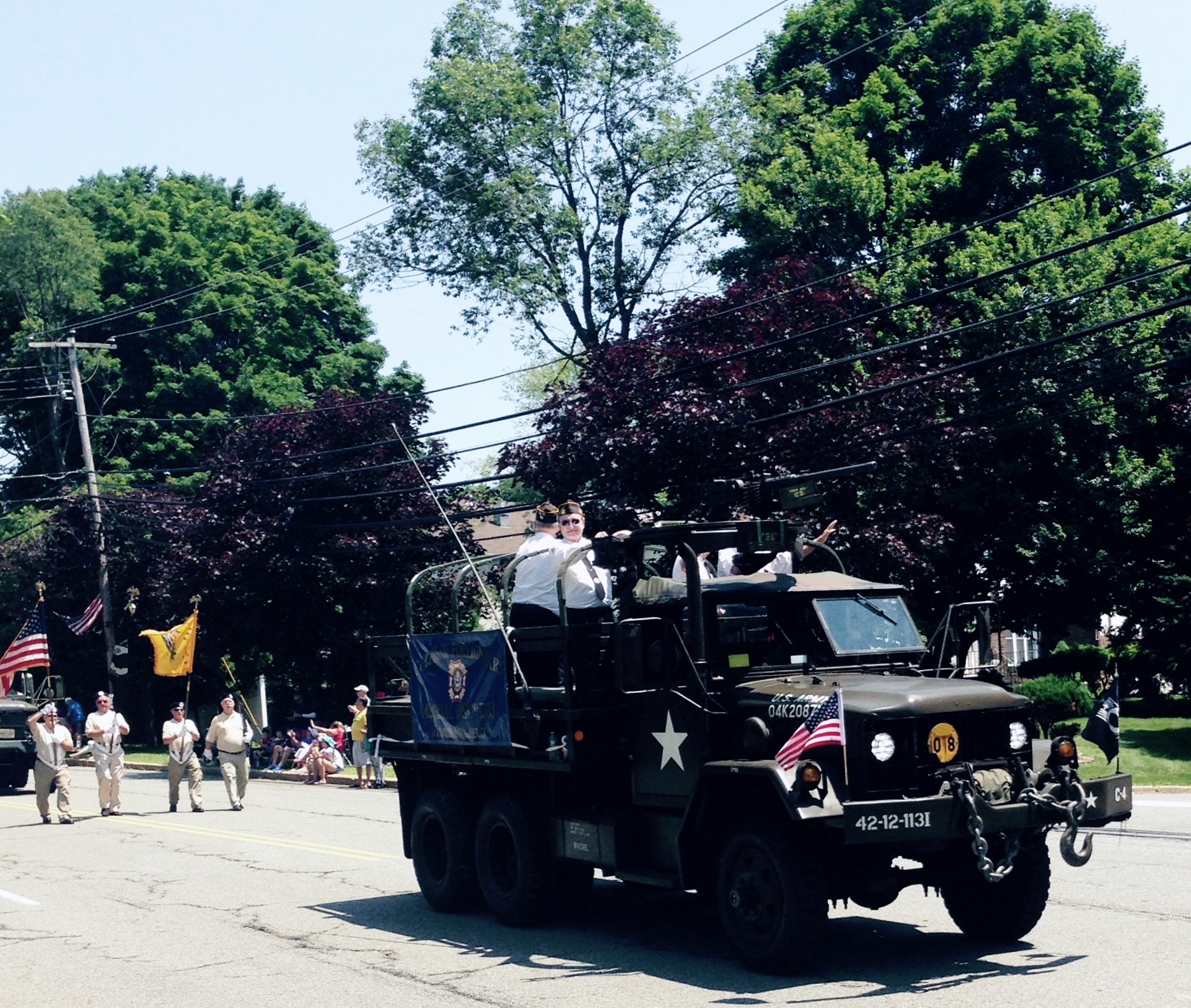 2015 Fourth of July Parade - VFW members Bill, John, Ray and Mario.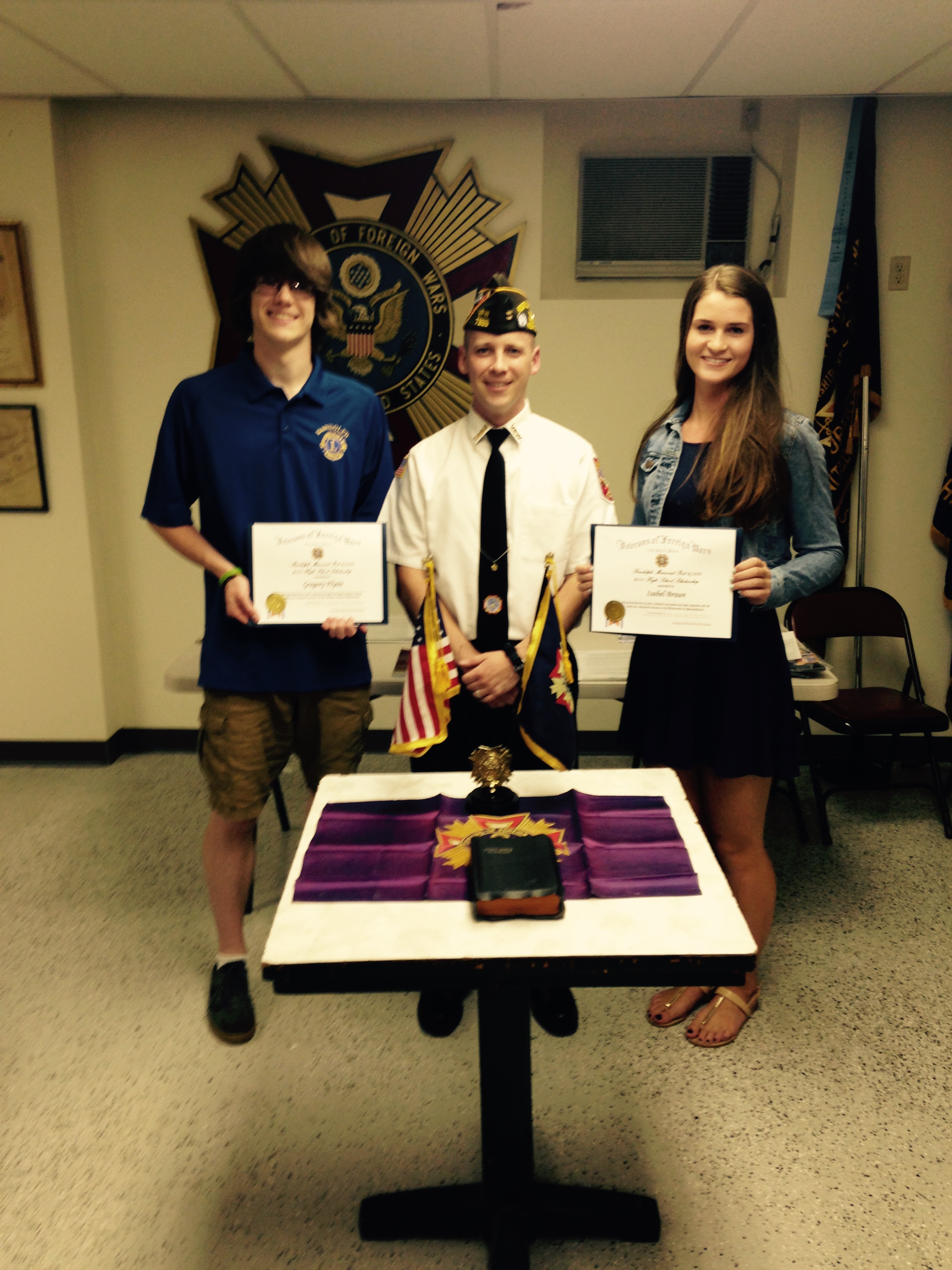 Randolph Memorial Post #7333, Veterans of Foreign Wars presented their 2015 graduating seniors scholarship awards at a recent meeting. The scholarship recipients must meet four criteria to be considered with the most important one being related to someone who has served in our armed forces. Meeting those requirements and selected as this year's Randolph Memorial Post #7333 VFW Scholarship recipients were Isabel Braun whose grandfathers both served in the military. Isabel will continue her education at the University of Pennsylvania; Gregory Flynn whose grandfather served in the Pacific Theater during WWII. Gregory will continue his education at Case Western Reserve University. A brief reception followed the presentations. (pictured L-R: Gregory Flynn, Jr., Post Commander Scott Montanio, Isabel Braun. Photo by Jack Sassaman)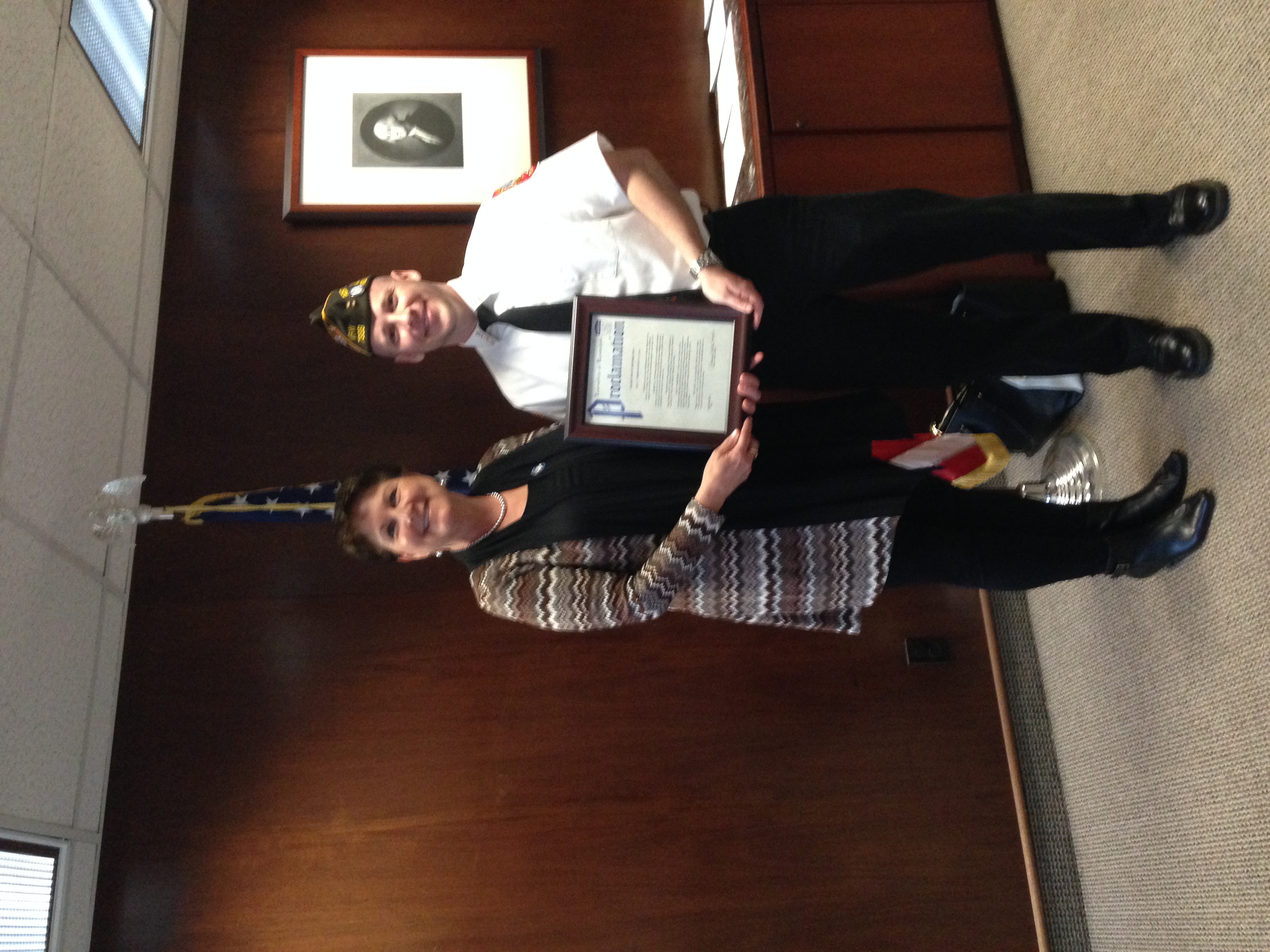 At a recent Randolph town council meeting, Mayor Joanne Veech presented Randolph Memorial Post #7333, Veterans of Foreign Wars Post Commander, Scott with a proclamation for the Buddy Poppy distribution program which begins on May 1st through Memorial Day week. The Mayor's proclamation included the wearing of the Buddy Poppy showing a mute display of remembrance for those who fought and died for the freedoms we take for granted. The proclamation reminds all township patriotic citizens to not only wear it but to give generously in support of our veterans' widows and orphans, hospitalized veterans, and many other veteran programs. (pictured L-R: Mayor Joanne Veech and Post Commander Scott; picture submitted by Jack Sassaman)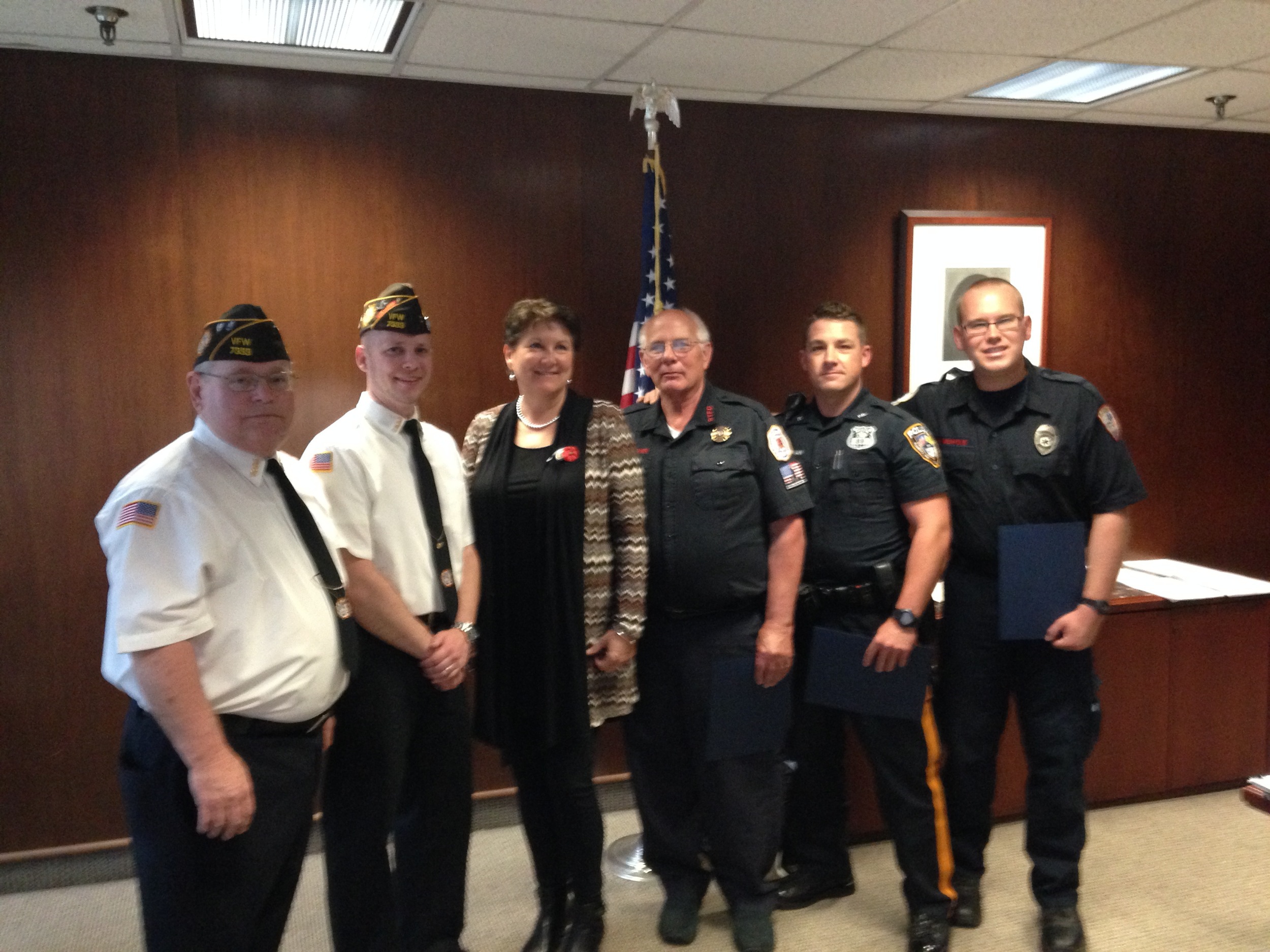 At a recent Randolph Township council meeting, the Randolph Memorial Post #7333, Veterans of Foreign Wars recognized three outstanding public servants by presenting them with their VFW Public Servant Recognition Award. The outstanding recipients were chosen because of their service to the community. Chairman Ted recognized each individual with the reading of their particular award after which each was congratulated by Post Commander Scott and Mayor Joanne Veech. Recipient for the Law Enforcement award was Officer Brian Brenckman; Fire Fighter, William Wagner; and EMT, Matt McArdle. (pictured L-R: Chairman Ted, Post Commander Scott, Mayor Veech, William Wagner, Brian Brenckman, Matt McArdle; picture submitted by J. Sassaman)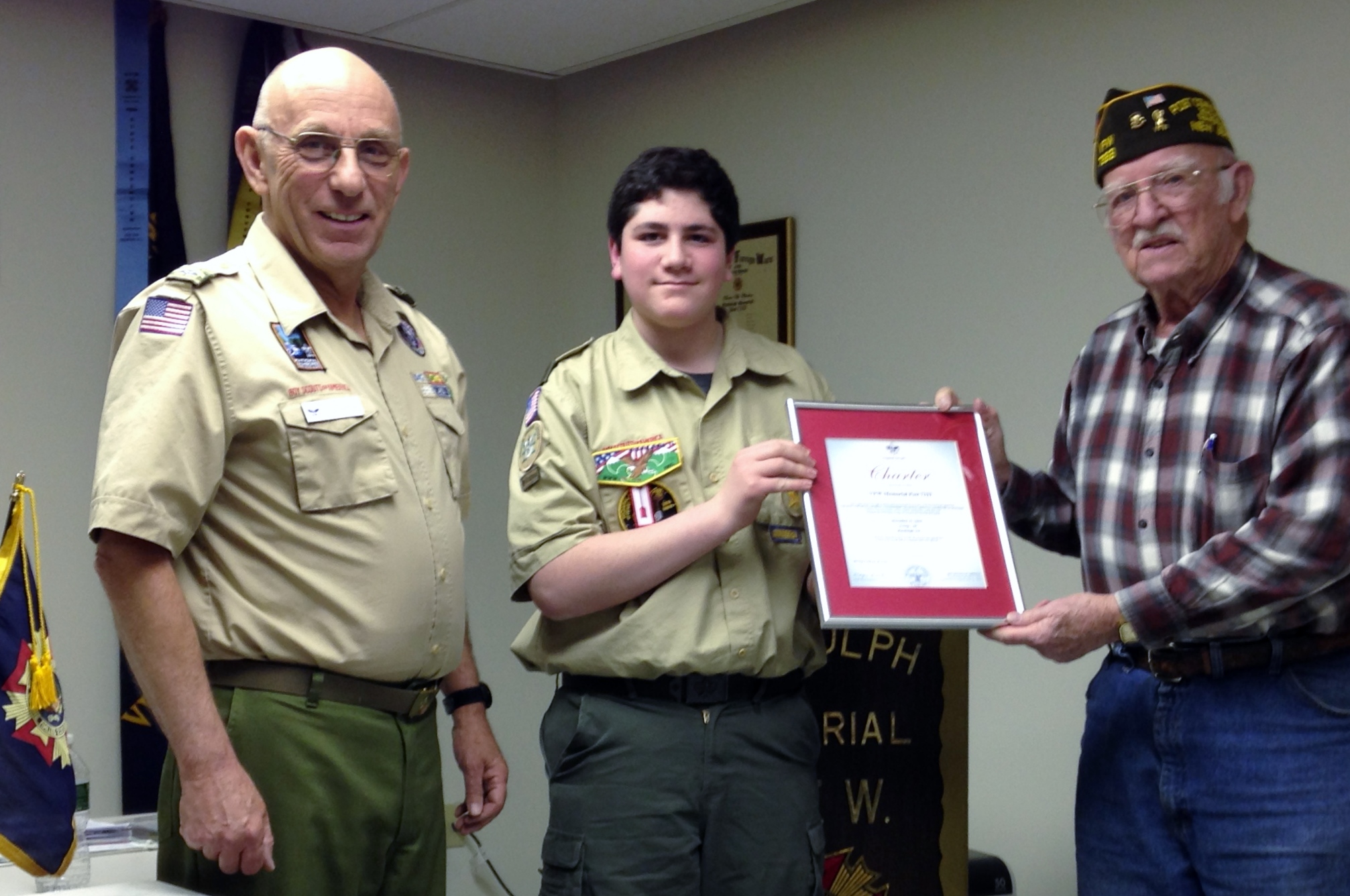 Scout Master Ken and Troop 50 senior patrol leader Michael present the annual Boy Scout of America sponsor charter to past Post Commander Bob.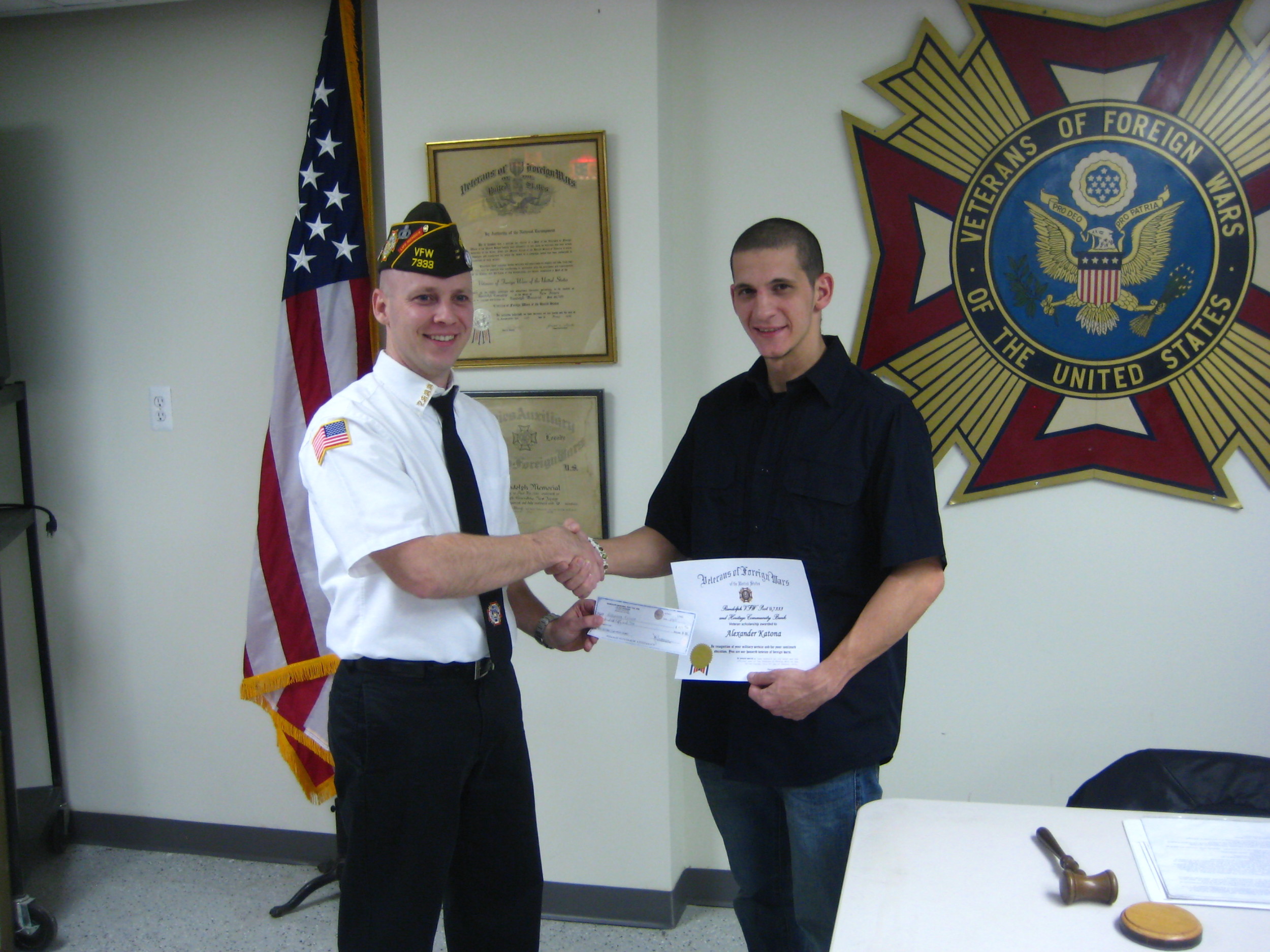 Commander Scott Katona presenting Alex Katona with the Randolph VFW Post #7333, Veterans of Foreign Wars 'Veteran scholarship'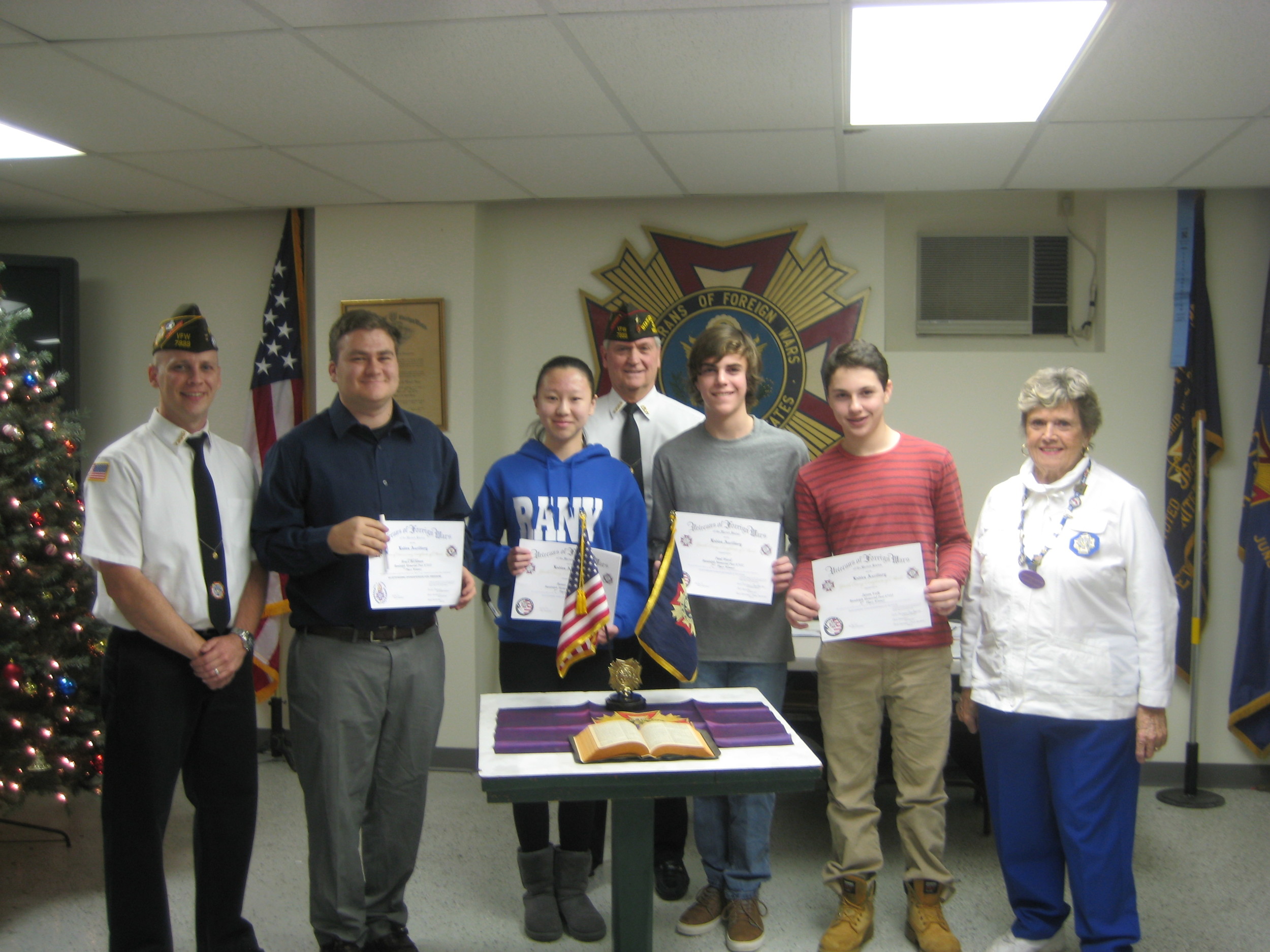 Patriot's Pen and Voice of Democracy
Commander Scott, Quartermaster Jack and Ladies Auxiliary President Joan present awards to the 2014 winners of the Patriot's Pen and Voice of Democracy programs.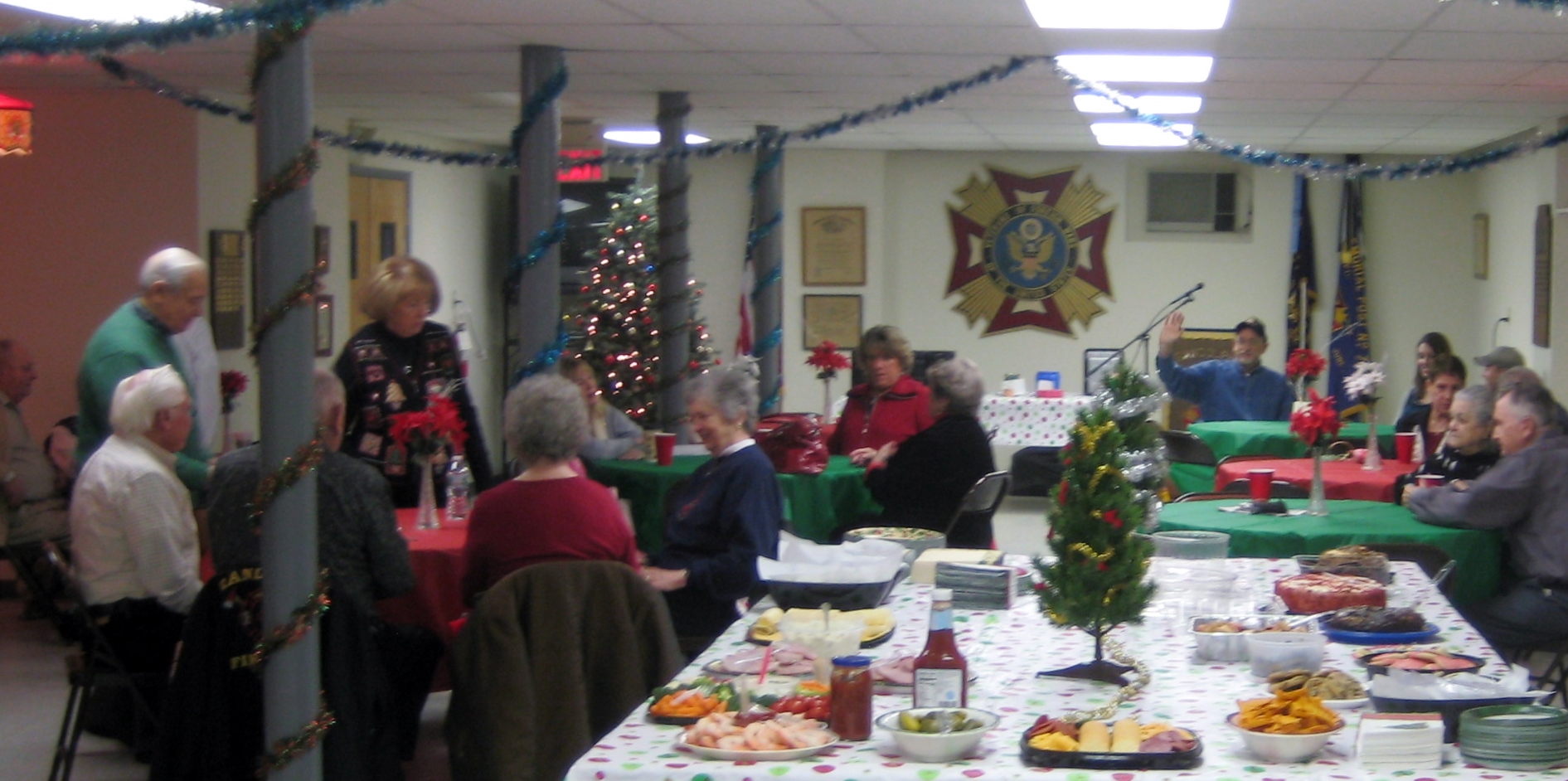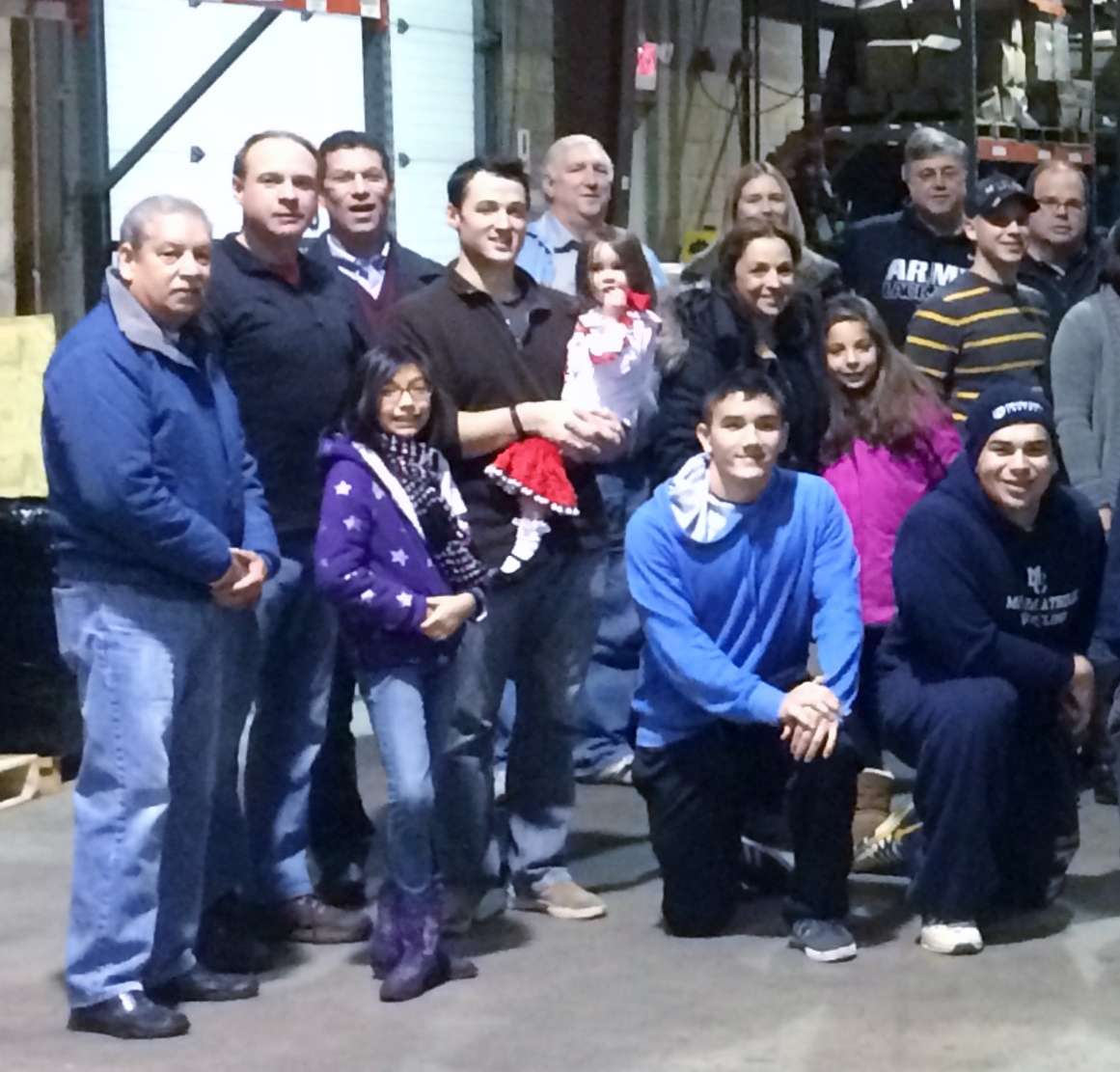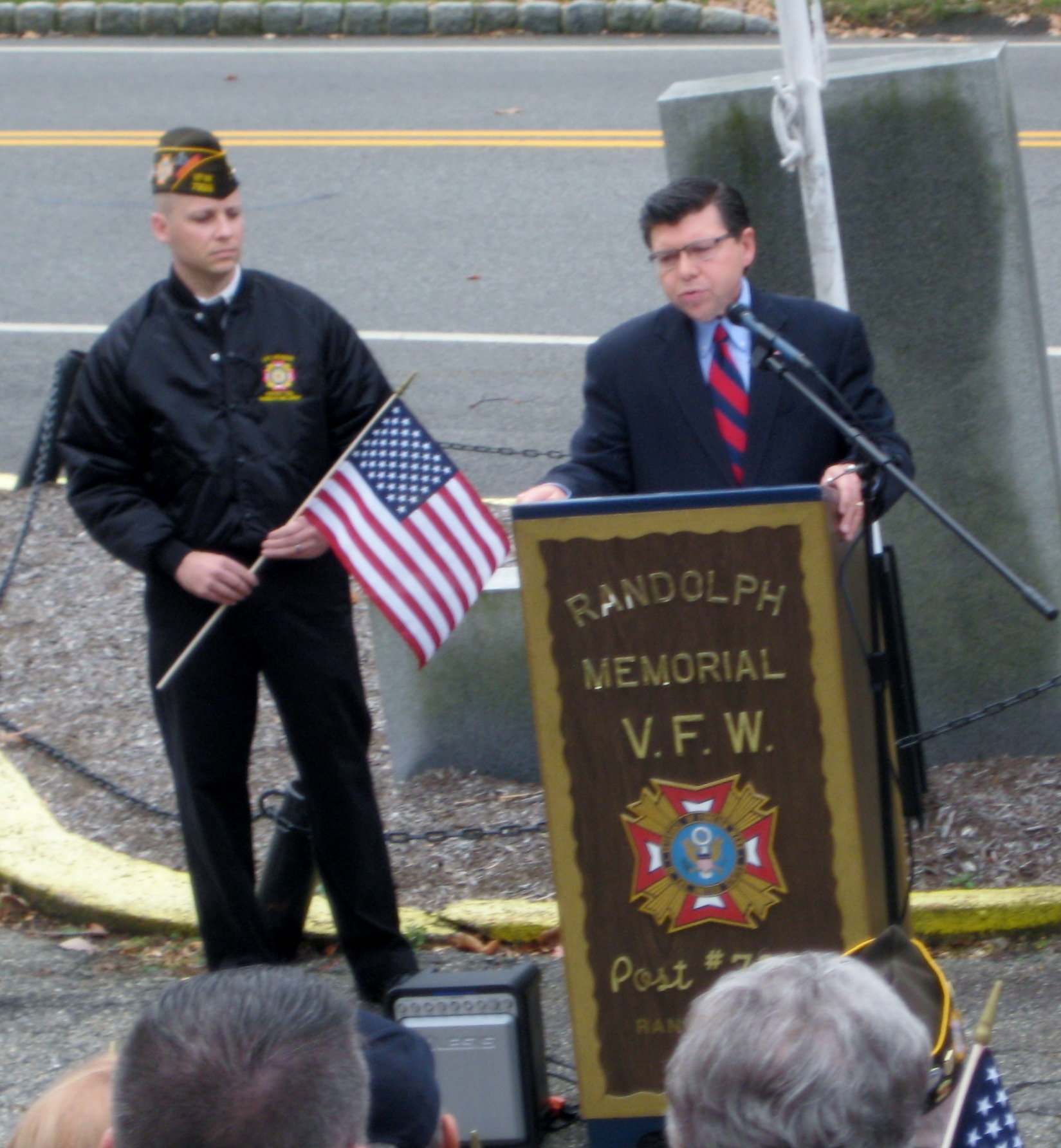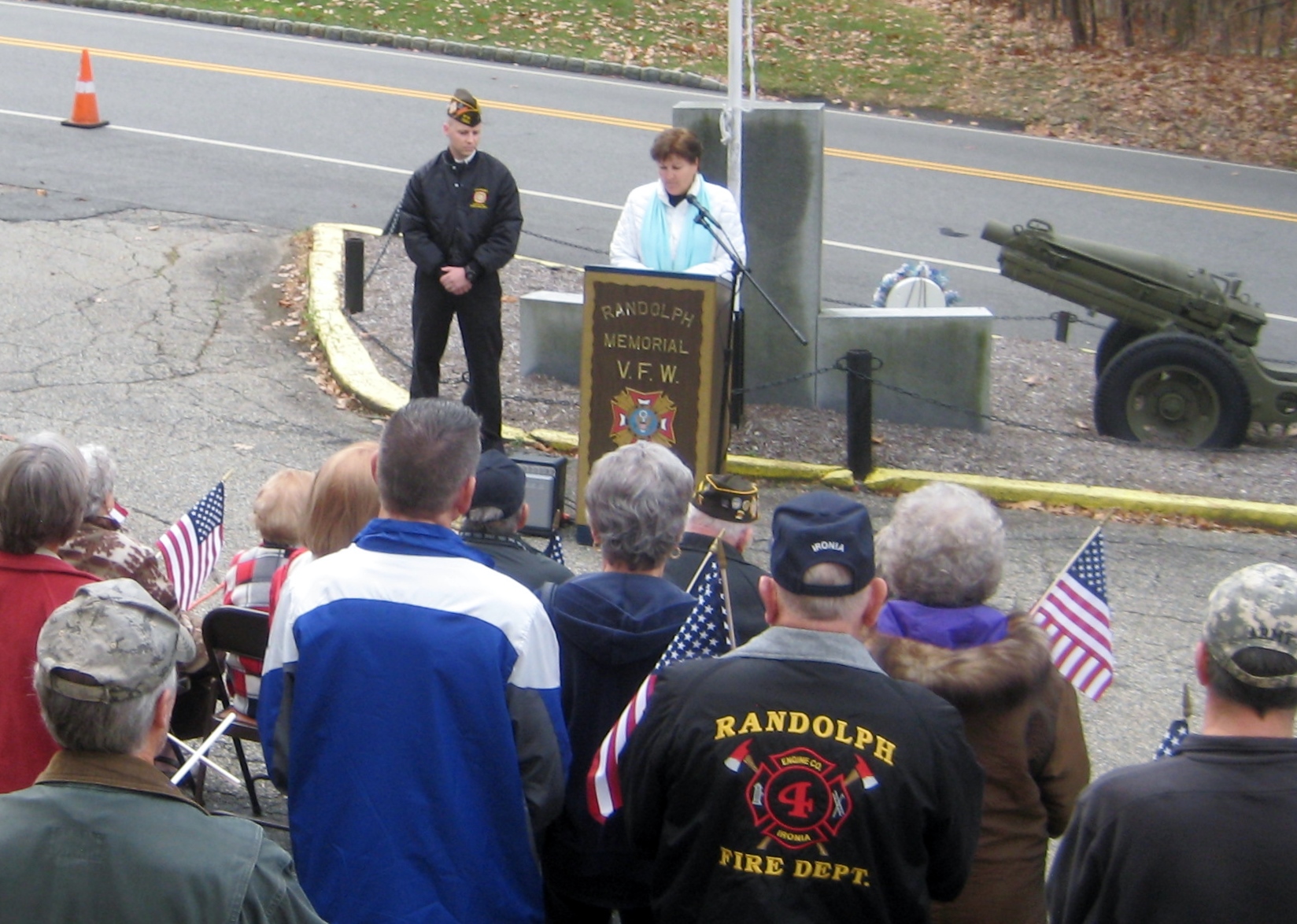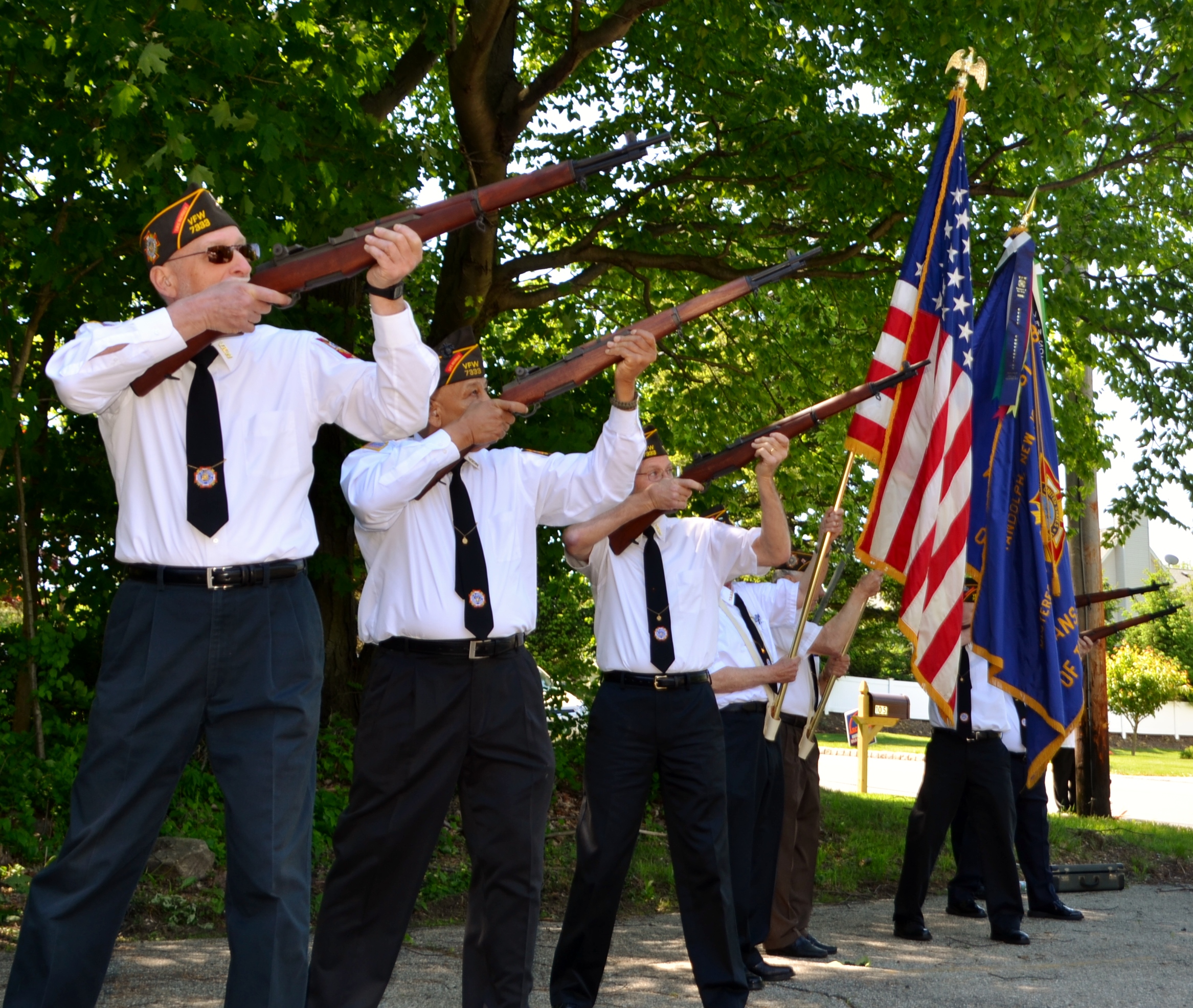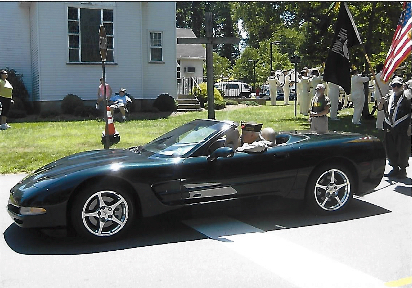 Don rides in parade courtesy of Ayer's Chevrolet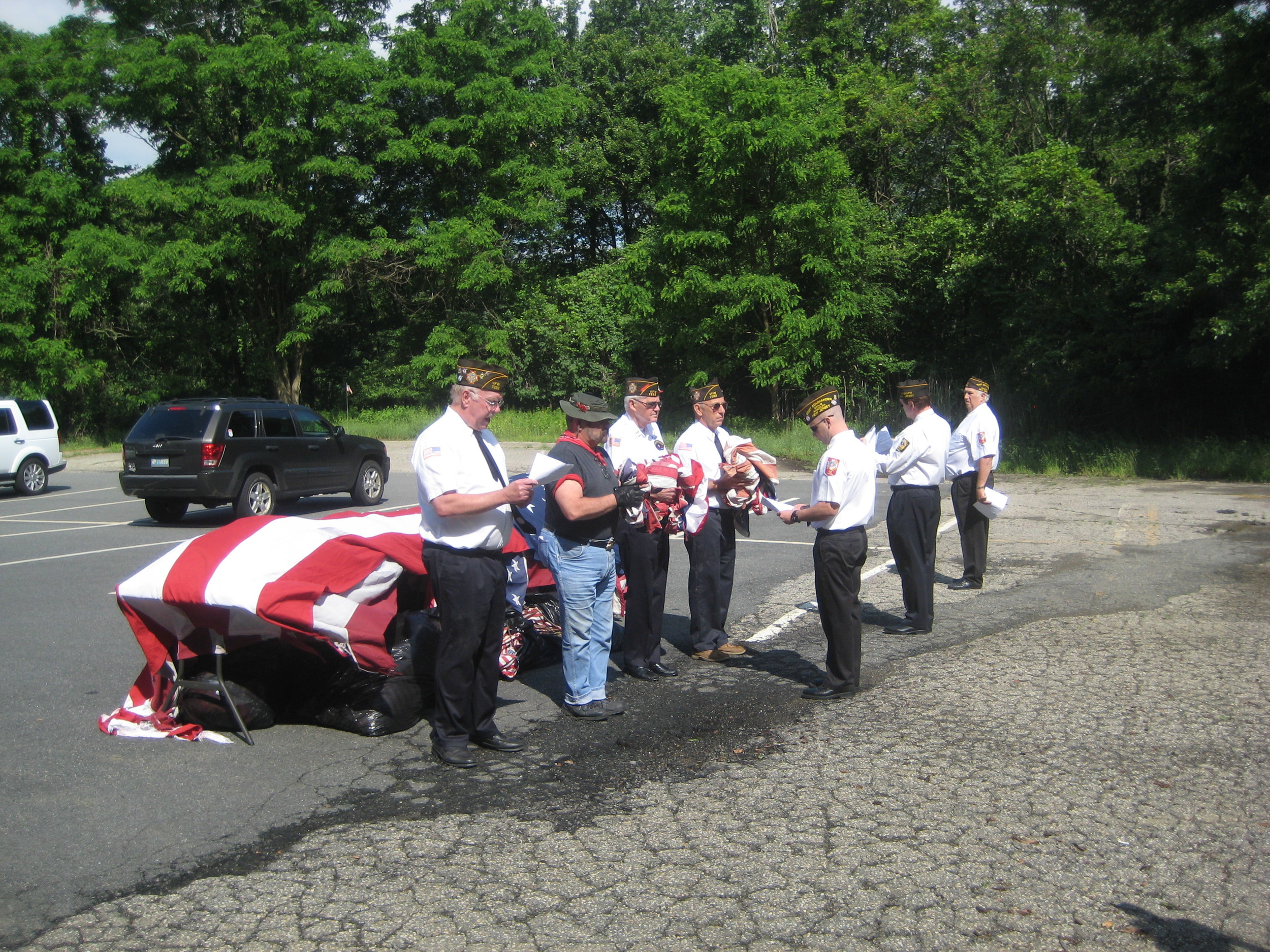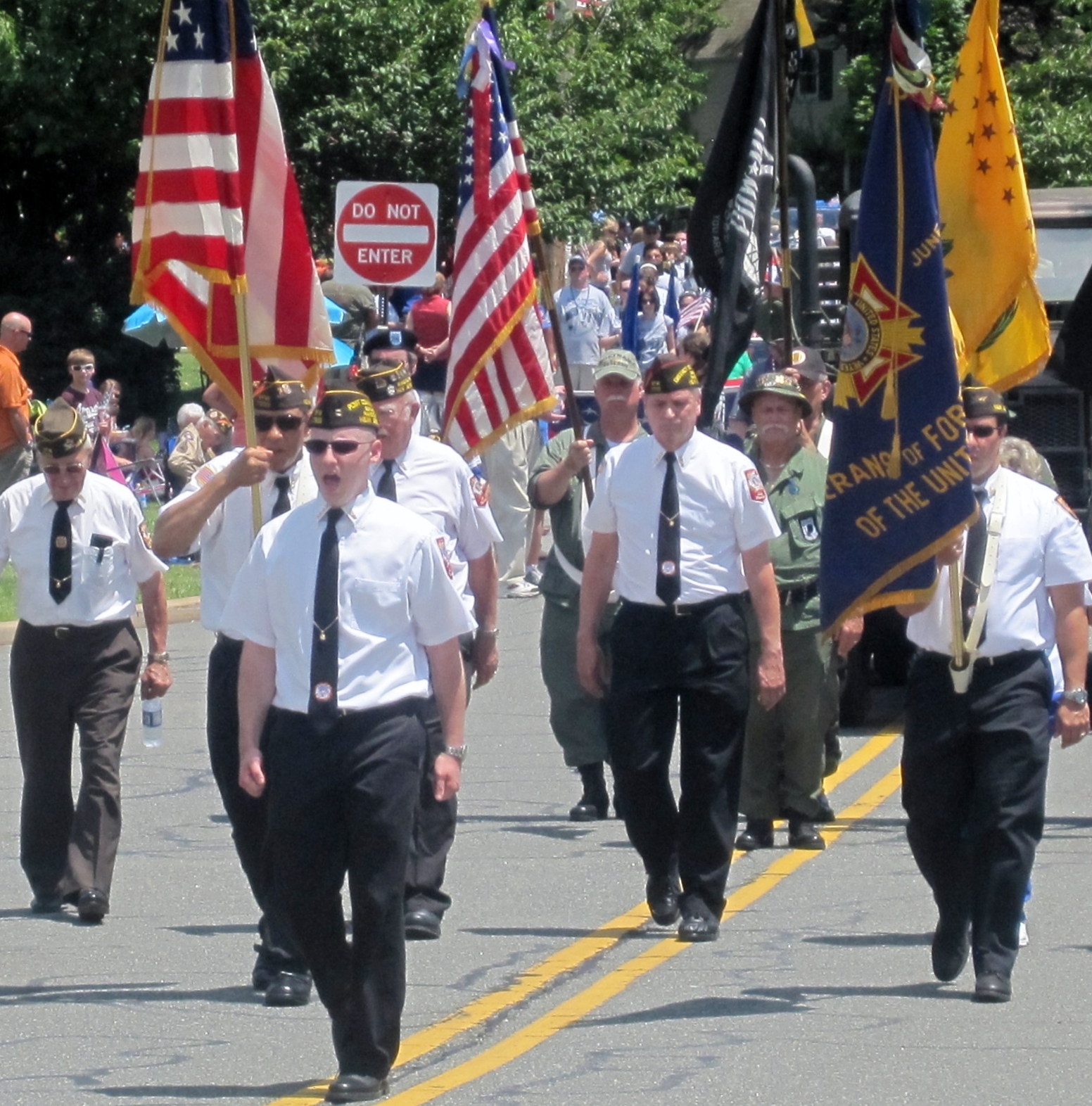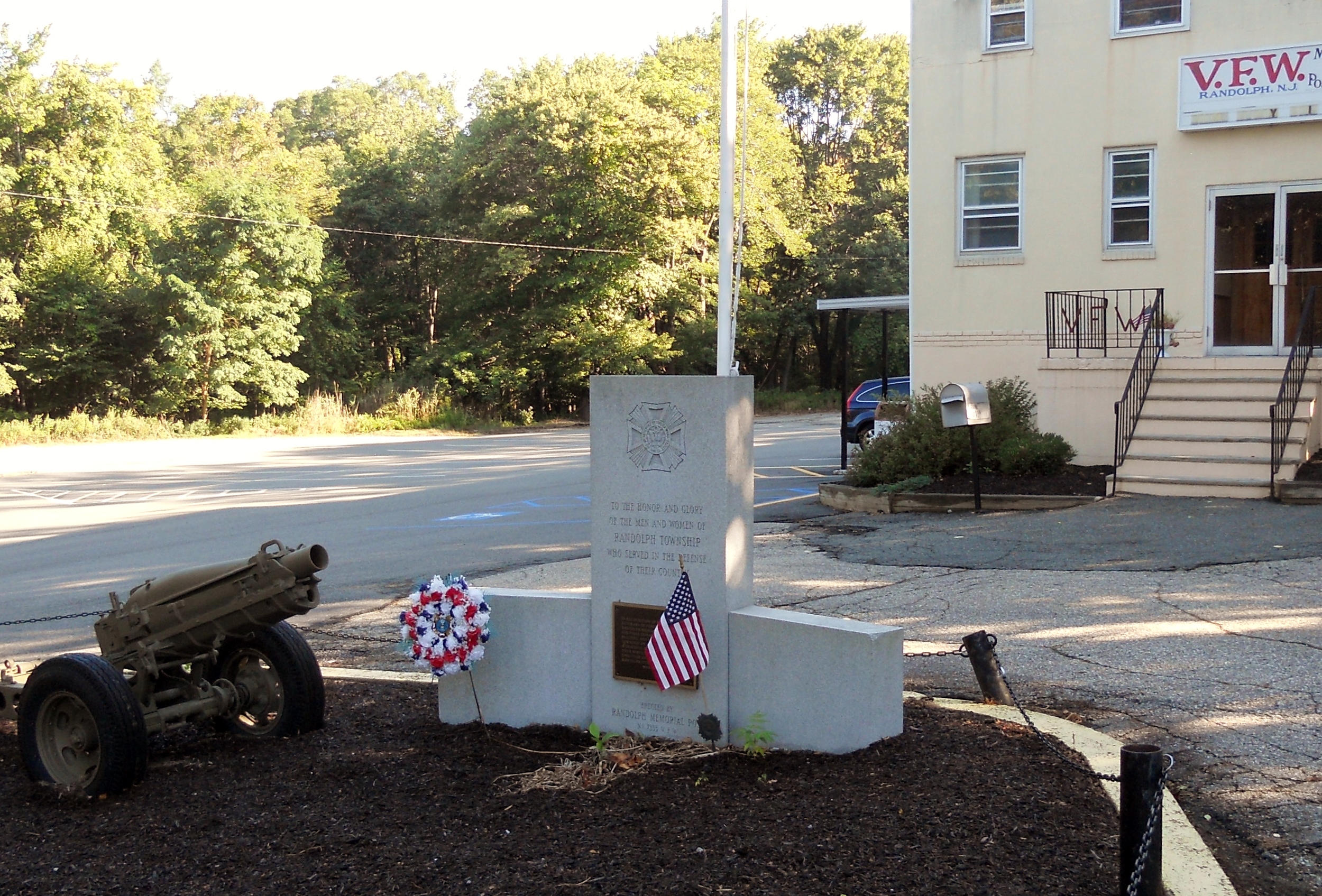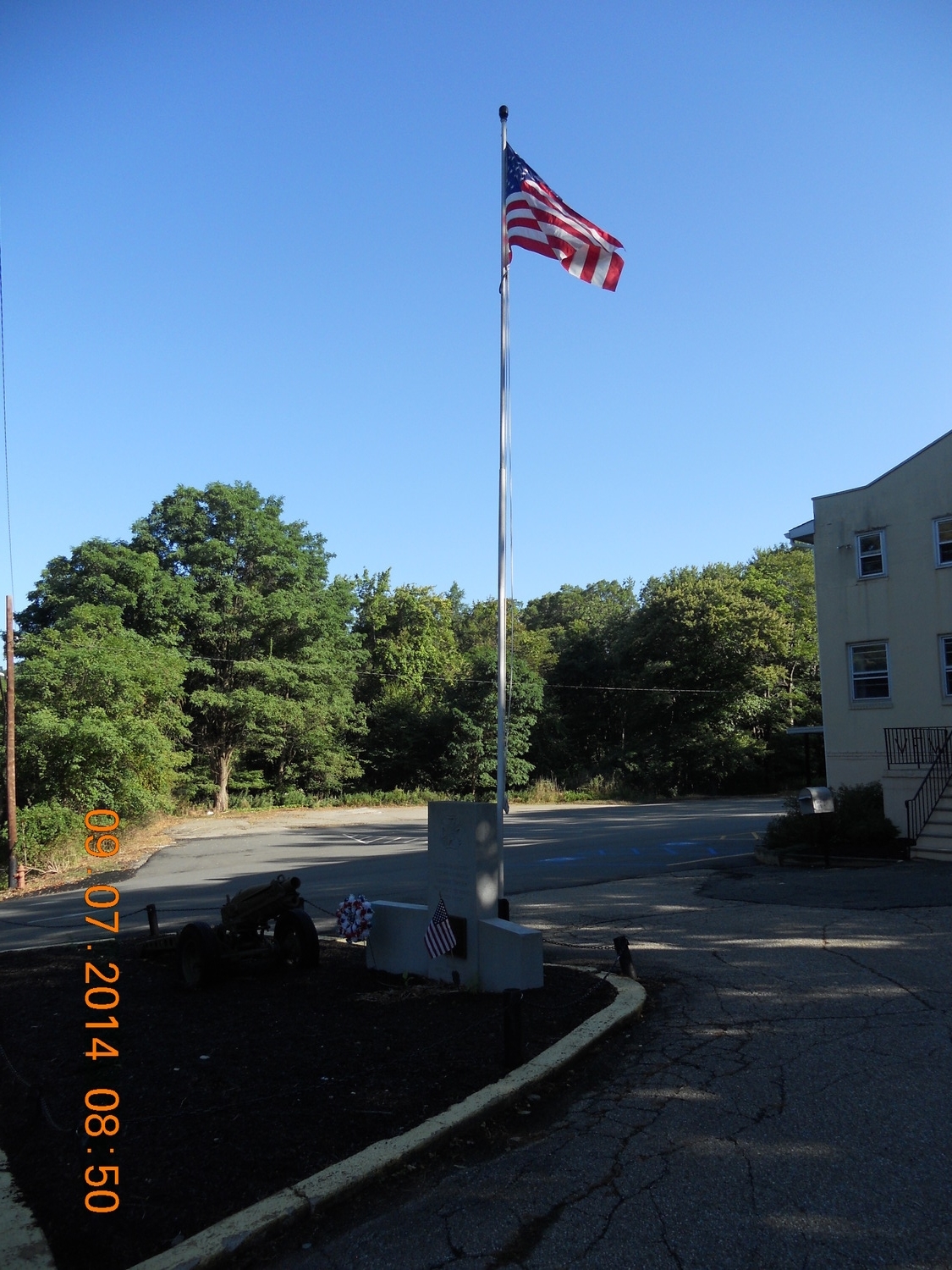 Come Visit Our Newly Remodeled Post!